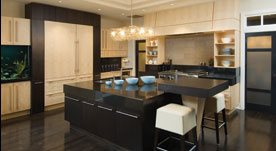 Artcraft has over 50 years of experience designing and manufacturing fine custom cabinetry and is committed to providing exceptional value - offering the best product possible at a fair and reasonable price.

Artcraft offers one of the broadest product lines - doors, finishes, design elements, functional interiors and accessories - on the market today and is constantly developing new concepts to meet the demands of discerning high-end customers. Designers can design with confidence knowing they have the selection and flexibility to satisfy customers with diverse styles, tastes and budgets.

Our recently-expanded production facility is one of the most modern and efficient cabinet manufacturing plants in North America with full CNC and robotic manufacturing, finishing and assembly. And, unlike many of our competitors, we control the entire production process - from door manufacturing to finishing - all under one roof. This guarantees strict quality control and allows flexibility for "specials" and custom pieces while maintaining consistently competitive lead times.

We are proud of our heritage and, as a family owned-business, we care about the product we supply and the service we offer to our customers.
Artcraft manufactures high quality "full-access" cabinets using traditional European dowelled-and-glue construction. This produces a very strong and rigid cabinet that is assembled in a case clamp to ensure the cabinet is true and square.

Although most of production concentrates on kitchens, Artcraft offers a complete line of bathroom cabinets, desk cabinets, entertainment units and bedroom wardrobes. In addition, the versatility, flexibility and custom manufacturing capability allows Artcraft cabinets to be designed and specified for any built-in furniture or millwork application.
Artcraft offers styles from ultra-modern to classic traditional - with everything in between! Door fronts in contemporary styles are typically flat-panel doors in a wide range of laminate, veneer, exotic veneer or MDF lacquers. Transitional and traditional doors are offered in wood - solid maple, cherry, oak or walnut - with a choice of many different stains, glazes and patina finishes. Traditional MDF doors are finished in either solid colours or with paint-and-glaze hand-dragged finishes. Custom colours are also available subject to approval.
Artcraft cabinets are manufactured using 19mm (3/4") high quality thermally-fused melamine furniture board in a choice of white, grey or charcoal finish or wood-grain melamine maple, beech or walnut. In addition, Artcraft offers a plywood cabinet construction using 19mm (3/4") formaldehyde-free veneered maple plywood (Purebond by Columbia Forest Products).

Standard drawers are white metal-sided on runners with 3/4" extensions. Up-grade drawers include the Nova Pro drawer runner - a full extension, soft-close drawer with grey metallic sides and either grey, charcoal or walnut melamine bottoms; Nova Pro Beech - a full extension, solid beech-sided drawer with a soft-close feature. Artcraft also offers a solid maple dovetail drawer with full extension and soft-close feature in natural maple or walnut.
Artcraft is committed to the best practices in the use of materials, production processes, waste management to minimize the impact on the environment.

All particle-board used in Artcraft cabinetry is composed of 100% recycled fibers with special low-content formaldehyde glues that conform to the most stringent emissions standards for air quality in North America - California Air Resources Board CARB-2.

Artcraft offers a special NAUF particle board in Folkestone grey that contains no added urea formaldehyde for customers seeking unsurpassed standards of indoor air quality. In addition, Artcraft offers plywood construction cabinetry using formaldehyde-free maple veneered plywood that uses soy-based adhesives and coatings (Purebond plywood from Columbia Forest Products www.columbiaforestproducts.com). Both of these "green" materials are compliant with the U.S. Green Building Council's Leadership in Energy and Environmental Design (LEED) standards and may qualify for Credits as low-emitting materials.